Canon Wins Six 2020 EISA Awards
World-leading and in a class of their own, Canon bags awards across its mirrorless and DSLR camera bodies and lenses.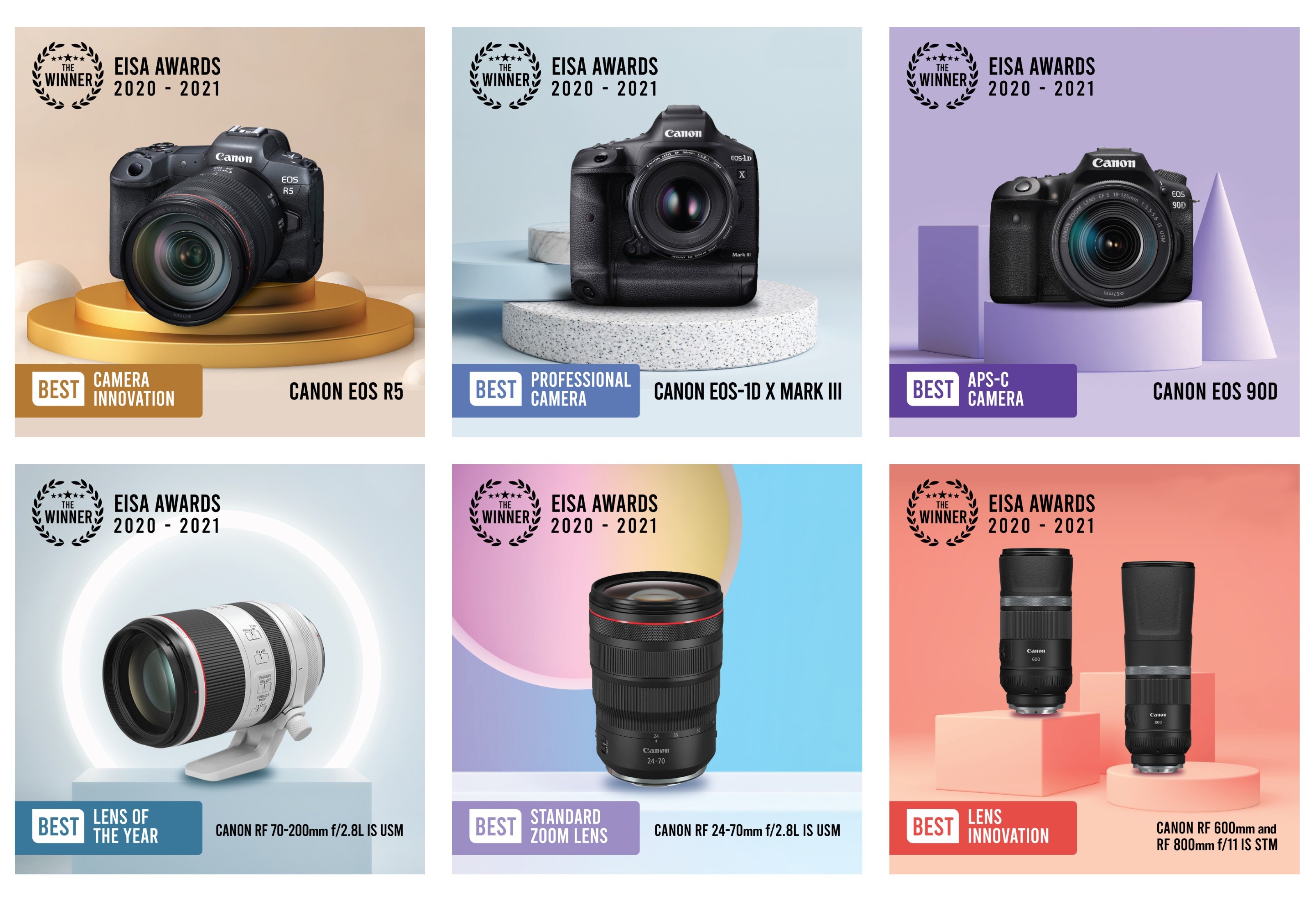 KUALA LUMPUR, 27 AUGUST 2020 — Setting the standard in technical innovation and optical excellence, Canon is once again recognised by the Expert Imaging and Sound Association (EISA) by winning six prestigious accolades spanning across its mirrorless and DSLR camera bodies and lenses. Despite this year's unprecedented challenges, Canon has maintained its commitment to introduce products that push the boundaries and open new possibilities for photographers and filmmakers.
Redefining mirrorless with the Canon EOS R5, Canon picked up the prestigious EISA Camera Innovation Award. In addition to this, the Canon EOS-1D X Mark III earned itself the EISA Professional Camera Award, enhancing its reputation as a fiercely sought-after imaging powerhouse amongst professional photographers worldwide, while the widely regarded Canon EOS 90D took home the EISA APS-C Camera Award. Apart from the cameras, four of Canon's RF lens series — Canon RF 70-200mm f/2.8L IS USM, Canon RF 24-70mm f/2.8L IS USM, Canon RF 600mm f/11 IS STM, and Canon RF 800mm f/11 IS STM — were also recognized by EISA.
These accolades reflect Canon's longstanding heritage in delivering optical excellence, driven by its commitment to research and development, and guided by customer feedback. Every product demonstrates Canon's continued support for both DSLR and mirrorless systems, offering photographers and filmmakers a competitive, full-choice line-up that makes the 'impossible' possible. Canon's 2020-2021 EISA Awards are as follows:
Canon EOS R5 – EISA Camera Innovation 2020-2021
Canon EOS-1D X Mark III – EISA Professional Camera 2020-2021
Canon EOS 90D – EISA APS-C Camera 2020-2021
Canon RF 70-200mm F2.8L IS USM – EISA Lens of the Year 2020-2021
Canon RF 24-70mm F2.8L IS USM – EISA Standard Zoom Lens 2020-2021
Canon RF 600mm f/11 IS STM and Canon RF 800mm F11 IS STM – EISA Lens Innovation 2020-2021
​​​​​​​"These prestigious awards clearly demonstrate that our product performance, build, innovation and technical capability have been given the stamp of excellence by EISA's esteemed judges.
Despite this year's unprecedented global challenges, Canon launched a line-up of industry-leading products with its own cutting-edge technology that delighted and exceeded our customer's expectations around the world. With award-winning products, Canon has something for every photography professional, filmmaker and enthusiast to get excited by," said Issei Morimoto, Senior Vice President for Canon Europe.
"As a digital imaging solutions leader, Canon strives to deliver the best of experiences to its customers. Our camera bodies and lenses go through rigorous research and development to ensure that we meet the evolving needs of our customers. As a dedicated brand, we will continue to deliver unparalleled services that cater to every photographer's needs," said Albert Mah, Head of Imaging Communications Product Division, Canon Marketing Malaysia.
Last month, Canon announced its biggest launch yet with the two new cutting-edge mirrorless cameras — EOS R5 and EOS R6, four new RF lenses and two new RF extenders — expanding its RF range to telephoto capabilities; and a professional printer — imagePROGRAF PRO-300. Earlier in January 2020, Canon launched the much-anticipated camera for professional sports and wildlife photographers — the EOS-1D X Mark III.
About Canon Marketing (Malaysia) Sdn. Bhd.
Canon is a global leader in photographic and digital imaging solutions. Canon Marketing (Malaysia) Sdn. Bhd. was established since 1987 to deliver products and services support to Malaysian users directly and through its nationwide channel partners. The parent company Canon Inc. has a global network of more than 300 companies and employs close to 200,000 people worldwide. It is dedicated to the advancement in technology and innovation and commits more than 8% of its total revenue each year to R&D. Canon is consistently one of the top few companies to earn the most number of patents over the last 20 years. As a Fortune Global 500 company, Canon is guided by its kyosei philosophy that focuses on living and working together for the common good.For more information, visit my.canon, or follow the Official Facebook page at www.fb.com/CanonMalaysia.