Celebrate National Camera Day Together With Canon Marketing Malaysia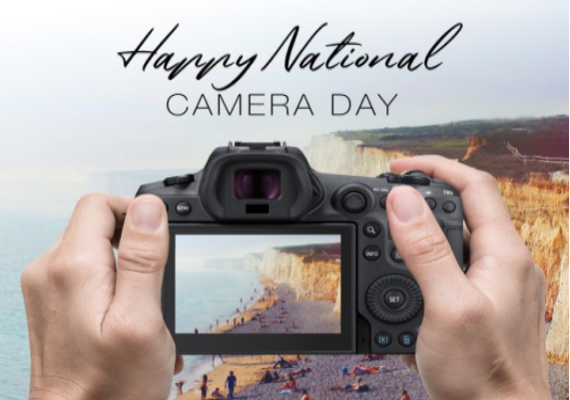 SHAH ALAM, 18 June 2021 — In conjunction with National Camera Day on 29 June, Canon Marketing Malaysia returns to celebrate this day for the 4th year running, with the aim to promote and inculcate a deeper passion and desire towards cameras and photography. Celebrated annually, National Camera Day is observed to celebrate and commemorate the existence of cameras and the benefits it holds to mankind.
As the global leader in photographic and digital imaging solutions, Canon Malaysia is committed to not only providing exceptional hardware and solutions for photographers but also a brand that celebrates the creative expression of photos and the community's passion for capturing moments.
From now until 2 July, Canon Malaysia is embarking on a journey to challenge Malaysians' knowledge of cameras, with the "Guess the Camera" contest. Through a series of posts on @canonmalaysia, users will be tasked to guess the featured camera model for the chance to win premium Canon gifts such as EOS R T-Shirts and Canon EOS 5D Mark IV miniature cameras.
The fun doesn't end there, as there will be a myriad of other initiatives leading up National Camera Day:
As part of the ongoing #CanonSays initiative to educate consumers on the various topics surrounding photography, June's session will feature Canon EOS Youth Ambassador, Reuben Liu on understanding the best photography gear that will make a world of difference when capturing the perfect photo. Users can also enjoy previous editions of #CanonSays on Canon Malaysia's Instagram highlights.

A series of online workshops conducted via Zoom, whereby participants will learn from professional photographers on tips and tricks surrounding the hottest areas of photography. Open to all via registration, topics include Basic Photography, Planning for Event Photography, Landscape Photography, Wedding Photography and Food Macro Photography.
Educational posts on Canon Malaysia's Facebook and Instagram that highlight fun facts about Canon's journey and continuous commitment toward delivering exceptional experiences to its users.
"We strongly believe the saying that a picture is worth a thousand words. While we understand that the past year has brought a new set of challenges for Malaysians alike, there is also a bigger yearning for us to seize opportunities and make the best of the current situation. Through the celebration of National Camera Day, it is with hope that Malaysians not only re-discover the importance of cameras and photography in our daily lives but also appreciate the memories or stories that these pictures can tell — otherwise indescribable with words," said Andrew Koh, President and CEO of Canon Marketing Malaysia.
With many now spending their time at home during the ongoing pandemic, the brand invites Malaysians to continue immortalising moments that are precious to them, regardless of the current circumstances. This could be capturing a baby's first steps, an intimate Father's Day dinner at home with loved ones, or the first fruit grown in one's home garden during MCO, made possible with Canon Malaysia's Wondr-EOS Mid-Year Deals. Choose from a selection of full-frame mirrorless, mirrorless, DSLR and compact cameras — a little something for everyone, whether you are an amateur photographer or professional looking to upgrade your gear.

Canon National Camera Day runs from now until 2 July 2021. For more details, "Like" Canon Malaysia's Facebook page and follow Canon Malaysia's Instagram page (@canonmalaysia) and official #CanonNCD hashtag.

About Canon Marketing (Malaysia) Sdn. Bhd.

Canon is a global leader in photographic and digital imaging solutions. Canon Marketing (Malaysia) Sdn. Bhd. was established in 1987 to deliver products and services support to Malaysian users directly and through its nationwide channel partners. The parent company Canon Inc. has a global network of more than 300 companies and employs close to 200,000 people worldwide. It is dedicated to the advancement in technology and innovation and commits more than 8% of its total revenue each year to R&D.

Under the slogan "Business Can Be Simple", Canon aims to reduce complexity by simplifying workflows and empowering customers with effective and easy to use solutions. As a Fortune Global 500 company, Canon is guided by its kyosei philosophy that focuses on living and working together for the common good.

For more information, visit my.canon, or follow the Official Facebook and Instagram pages.