Canon announces EOS C70 — the first Cinema EOS camera equipped with an RF mount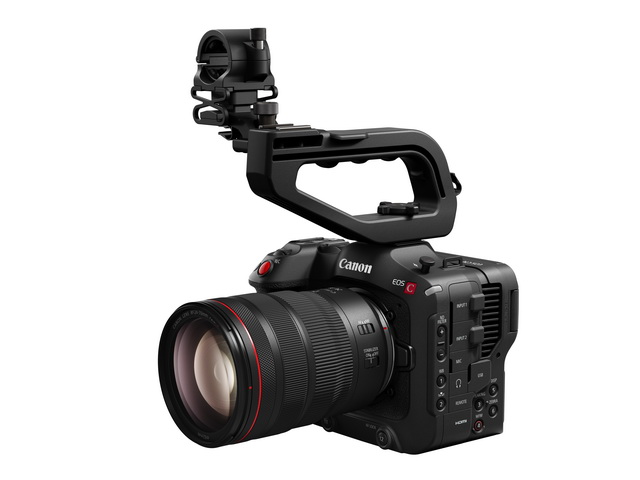 SHAH ALAM, 24 SEPTEMBER 2020 — Canon has announced the launch in Japan of the EOS C70, the newest addition to the Cinema EOS System as well as the Mount Adapter EF-EOS R 0.71x, a lens adapter for the EOS C70 which enables the camera to use EF series lenses.
Utilizing Canon's RF lens mount, the new camera achieves a compact and lightweight design[1] and supports 4K/120P high frame rate recording, enabling rich visual expression. The EOS C70 is the first Cinema EOS System camera to be equipped with an RF mount, which makes it compatible with any of the RF lenses from Canon's EOS R System. When equipped with the Mount Adapter EF-EOS R 0.71x (sold separately), the camera can also support the extensive lineup of lenses from the EF lens series[2], opening up a myriad of possibilities for creative cinematography.
Featuring a 4K Super 35mm CMOS DGO (Dual Gain Output) sensor, the EOS C70 can capture high-image-quality 4K video in 4:2:2 (10-bit) colour that delivers rich gradation, even in environments with significantly high contrast which demands high dynamic range. Moreover, the camera is equipped with the DIGIC DV7 image-processing platform capable of high-speed processing, enabling users to record high-frame-rate 4K/120P video to UHS-II standard SD cards.
The EOS C70 is equipped with two SD card slots and supports a variety of recording modes such as simultaneous recording, relay recording, and 4K/2K recording. The camera also inherits many professional features found in the existing Cinema EOS lines, including two mini XLRs, audio control dials, Timecode IN/OUT, full HDMI terminal, and the newly designed "Direct Touch Control" function that allows users to change recording settings quickly and directly from the camera's touchscreen panel.
In addition, the camera also incorporates Canon's proprietary Dual Pixel CMOS AF technology, which offers even greater performance with the addition of the Intelligent Tracking and Recognition System. This advanced algorithm developed under deep learning technology works in conjunction with the Face Detection AF and further improves focus tracking, even when a subject is looking away from the camera. Combined with the new highly responsive touch screen, image focusing is now faster and even more intuitive.
Employing a miniaturized optical system, the Mount Adapter EF-EOS R 0.71x allows for video recording using the EOS C70 and EF series lenses[1] with an angle of view close to that of the mounted full-frame lens. This allows users to take full advantage of the wide selection of EF series lenses as well as expands the possibilities and flexibility of video production.
The optical system of the Mount Adapter EF-EOS R 0.71x reduces the focal length by 0.71x, thus allowing the EOS C70 — equipped with a Super-35mm DGO sensor — to record video using EF lenses originally designed for full-frame sensors with an angle of view similar to the original angle of the full-frame lenses. In addition, reducing the size of the optical system gains approximately one extra stop (one lens aperture "f-number") of brightness, thus requiring lower ISO sensitivity. This enables high-image-quality recording with less noise, even in low-light environments such as indoors or at night.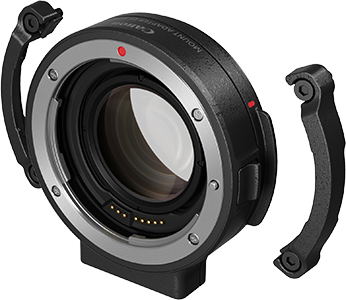 When equipped with EF lenses[2] via the Mount Adapter EF-EOS R 0.71x, the EOS C70 digital cinema camera can achieve the same Dual Pixel CMOS AF autofocus functionality across the entire image, just like digital cinema cameras with an EF mount. In addition, the camera can also record and display data such as peripheral illumination correction, the effectiveness of lateral chromatic aberration correction, F-number and focal length.
The pricing for both the EOS C70 and Mount Adapter EF-EOS R 0.71x will be announced in due time, with availability in Malaysia in early December.
[1] The EOS C70 measures approximately 160.0 mm (W) x 130.2 mm (H) x 115.9 mm (D) and weighs approximately 1,170 g.
[2] Includes CN-E (EF cinema) lenses. Excludes RF lenses, EF-M lenses, EF-S lenses and some manual focus lenses.
About Canon Marketing (Malaysia) Sdn. Bhd.
Canon is a global leader in photographic and digital imaging solutions. Canon Marketing (Malaysia) Sdn. Bhd. was established since 1987 to deliver products and services support to Malaysian users directly and through its nationwide channel partners. The parent company Canon Inc. has a global network of more than 300 companies and employs close to 200,000 people worldwide. It is dedicated to the advancement in technology and innovation and commits more than 8% of its total revenue each year to R&D. Canon is consistently one of the top few companies to earn the most number of patents over the last 20 years. As a Fortune Global 500 company, Canon is guided by its kyosei philosophy that focuses on living and working together for the common good.For more information, visit my.canon, or follow the Official Facebook page at www.fb.com/CanonMalaysia and the Official Instagram page @canonmalaysia.