Canon Celebrates Leader Position in Malaysian Printing Industry
-No.1 Inkjet Printer brand for 25 continuous years since 1996
-No.1 Laser Printer brand for 6 continuous years since 2015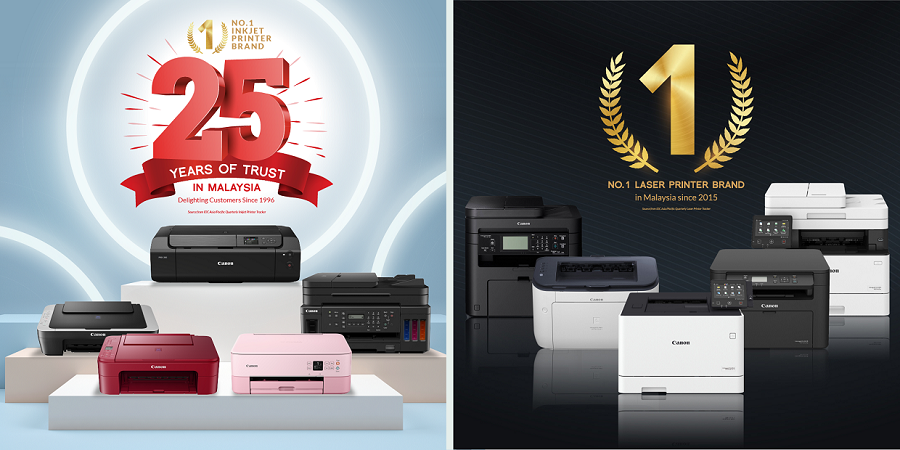 SHAH ALAM, 7 April 2021 – The printing industry was challenged last year to maintain and grow their businesses in the face of competition, changing market trends, demands from customers and the ongoing pandemic. The restriction in movements have impacted the industry's players in a way no one expected, pushing them to develop new ways of coping with the new normal.
Despite these challenging times, Canon Marketing (Malaysia) Sdn. Bhd ("Canon") continues to lead the printing industry and has been named by global research firm IDC as the No. 1 Inkjet Printer brand for 25 consecutive years and No.1 Laser Printer brand for 6 consecutive years in Malaysia. The result is based on findings from IDC Asia/Pacific Quarterly Hardcopy Peripherals Tracker 2020Q4.
The IDC's Asia/Pacific Quarterly Hardcopy Peripherals Tracker provides a comprehensive view and in-depth analysis of the printer industry across the region on a quarterly basis.[1] In the assessment among 13 countries in Asia Pacific (excluding Japan), Canon is being recognized for its comprehensive range of high-speed inkjet printers and laser printers on its shipments and end-user revenue.
Sandy Lee, Head of Consumer System Products Division at Canon Marketing Malaysia, said this is a result of the company's commitment. Canon appreciates the 25 years of trust given by its customers of both businesses and consumer sectors. "We are proud of the continuous strong support that we have received from our customers, including small and medium enterprises, that has enabled us to remain as the market leader in both the Inkjet Printer space and Laser Printer space for since 1996 and 2015 respectively. It is a testament to our commitments to innovate in a highly competitive industry," said Lee.
As a total business solutions provider, Canon has a comprehensive range of B2B technology such as multi-functional devices, inkjet printers, laser printers, projectors and network cameras. Living by its tagline "Business Can Be Simple", the company aims to simplify complex business processes, allowing business owners to focus on their core functions.
Even with more than 40 models of Inkjet Printers and over 35 models of Laser Printers, the global leader in digital imaging solutions is still growing its printer portfolio to cater better to the growing demands. In 2020, Canon unveiled expansions in its Ink Efficient G series, E series, TS series and professional photo printers. These printers are perfectly designed to fulfill the various needs of students, home users, businesses and even professional photo printing users.
In addition, the company has a nationwide network coverage that is powered by six Canon branch offices in Penang, Johor Bahru, Melaka, Kuantan, Kota Kinabalu, and Kuching, as well as authorized service partners. This extensive network coverage ensures greater convenience and flexibility for customers to receive personalized support from anywhere in Malaysia.
Poised For The Future
The pandemic has shaken many industries and pushed many businesses to rethink the way they conduct business. Despite the challenges brought up by the pandemic, Canon is committed to further develop its printing technology and business solutions to support the growing demands of businesses, while maintaining excellent customer experience. On top of official stores in both Shopee and Lazada, Canon is also planning to enhance its online purchasing consumer experience by launching its own e-store.
Canon planned to announce eight new ink tank system printers from Q4 2020 to 1H 2021. The system will include a user-replaceable maintenance cartridge that reduces device downtime and increases efficiency for businesses and users at home. Users need only to replace the spill-proof ink bottles in their respective colour tank well openings whenever they are low on ink.
Furthermore, Canon has also launched its Genuine Toner Loyalty Programme to reward end users while educating them on the importance of using genuine toners. Starting in Q4 2020, all Canon's genuine toners are encrusted with a holographic security label on their packaging. To verify the authenticity of the toner, customers will just need to scratch the label and scan the disclosed QR code. Ultimately, this process not only eases customer's concern about buying non-genuine toners but also can be rewarded for their purchases through this point redemption programme.
"Recovering from the ongoing pandemic, businesses have become more conscious with their operating needs. We believe that our all-in-one multifunction printers will certainly help businesses improve their efficiency during this period where everyone is working from home." added Lee.
Guided by its Kyosei philosophy, Canon's innovative culture and continuous commitment to research, development and helping the community enables the company to remain steadfast amid fierce competition. Canon uses its cutting-edge technologies to develop solutions that meet higher customer demands with its belief that Business Can Be Simple.
[1] https://www.idc.com/getdoc.jsp?containerId=IDC_P23506
About Canon Marketing (Malaysia) Sdn. Bhd.
Canon is a global leader in photographic and digital imaging solutions. Canon Marketing (Malaysia) Sdn. Bhd. was established in 1987 to deliver products and services support to Malaysian users directly and through its nationwide channel partners. The parent company Canon Inc. has a global network of more than 300 companies and employs close to 200,000 people worldwide. It is dedicated to the advancement in technology and innovation and commits more than 8% of its total revenue each year to R&D. Under the slogan "Business Can Be Simple", Canon aims to reduce complexity by simplifying workflows and empowering customers with effective and easy to use solutions. As a Fortune Global 500 company, Canon is guided by its kyosei philosophy that focuses on living and working together for the common good.For more information, visit my.canon, or follow the Official Facebook page and the Official Instagram page.