New Canon imageRUNNER ADVANCE DX MFDs Empower Businesses to Accelerate Digital Transformation
A perfect hub for connecting businesses to digital transformation, the comprehensive MFD lineup provides hybrid workplace with efficient digitisation and flexible cloud connectivity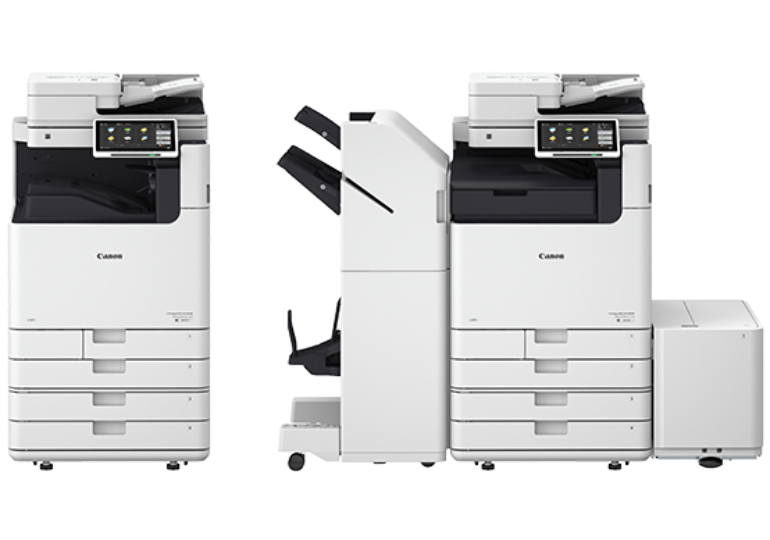 SHAH ALAM,15 June 2021– Canon today announced the launch of the imageRUNNER ADVANCE (iR-ADV) DX 6800i series, a productive range of A3 monochrome laser multi-function devices (MFDs) complementing its colour counterpart, the iR-ADV DX C5800i series launched earlier in April 2021. Ideal for businesses looking to accelerate digital transformation (DX) in the new normal, the comprehensive monochrome and colour MFD lineup meets varied user needs, while delivering efficient digitisation, flexible cloud connectivity and well-rounded security to support both office and remote work in the emerging hybrid workplace.

"The pandemic has contributed to the hybrid workplace trend, and more firms are digitally modernising their operations to enable dynamic collaboration across diverse functions in the office and remotely," said Masato Yoshiie, Senior Director of Canon Marketing Malaysia's Business Imaging Solutions Centre. "With the addition of the iR-ADV DX 6800i series, we now have a wide range of monochrome and color MFDs that can meet a wide range of needs, assisting businesses in digitising efficiently, securely collaborating in the cloud, and creating a sustainable work environment for hybrid workers while driving optimal productivity."

Efficient Collaboration in the Hybrid Workplace
A perfect partner for accelerating digital transformation, the iR-ADV DX 6800i and C5800i series offer swift digitisation with an industry-leading scan speed of up to 270 images per minute (ipm), and works seamlessly with uniFLOW Online, a cloud-based print management solution to speed up digitisation. Based on pre-configured workflows, the solution's Filing Assist automates batch scanning, naming, filing and routing of documents to various cloud destinations quickly for further processing. The flexible cloud connectivity allows in-office and remote workers to collaborate with ease, while the automated process eliminates time-consuming and error-prone manual filing for greater productivity in the hybrid workplace. The series also come equipped with uniFLOW Online Express, a simple cloud-based solution that helps track device usage, and prevents unauthorised access with device authentication.
Strong Defence against Security Breaches

Operating with digital workflows in the hybrid workplace requires stronger endpoint security. From document, network to device security, the iR-ADV DX 6800i and C5800i series adopt a holistic approach in strengthening its defence against security breaches, and incorporate a wide range of security features to safeguard businesses against cyber threats. Notably, the series use Trusted Platform Module (TPM) 2.0 to safely encrypt critical data stored on the MFDs, and comply with Common Criteria (CC) Hardcopy Devices Protection Profile (HCD-PP) certification, an international evaluation standard for information security. McAfee Embedded Control, a standard security feature on the MFDs effectively blocks the execution of unauthorised applications, and prevents tampering of existing firmware to better protect businesses against malicious attacks.

Safe and Eco-friendly Work Environment

When paired with Canon PRINT Business App, the iR-ADV DX 6800i and C5800i series provide peace of mind with contactless operation. In-office workers can easily access the user interface of MFDs on their personal smartphones, and process jobs without touching the shared MFDs to minimise surface contact in view of the current pandemic. In addition to workplace safety, the series helps businesses drive sustainability with eco-friendly fusing technologies and sleep mode features to lower power consumption, upholding Canon's commitment to implementing good practices that protect the environment.
More information on the imageRUNNER ADVANCE (iR-ADV) DX 6800i series is available on this page. For further enquiries, kindly contact Canon's Customer Careline at 1800-18-2000.
About Canon Marketing (Malaysia) Sdn. Bhd.

Canon is a global leader in photographic and digital imaging solutions. Canon Marketing (Malaysia) Sdn. Bhd. was established in 1987 to deliver products and services support to Malaysian users directly and through its nationwide channel partners. The parent company Canon Inc. has a global network of more than 300 companies and employs close to 200,000 people worldwide. It is dedicated to the advancement in technology and innovation and commits more than 8% of its total revenue each year to R&D. Under the slogan "Business Can Be Simple", Canon aims to reduce complexity by simplifying workflows and empowering customers with effective and easy to use solutions. As a Fortune Global 500 company, Canon is guided by its kyosei philosophy that focuses on living and working together for the common good. For more information, visit my.canon, or follow the Official Facebook page and the Official Instagram page.