Canon Unveils Six New Entry-Level Multi-Function Devices Tailored To The Needs of Modern Offices
Combining exceptional mobile connectivity and security, the latest imageRUNNNER A3 and A4 monochrome multi-function devices help businesses optimise performance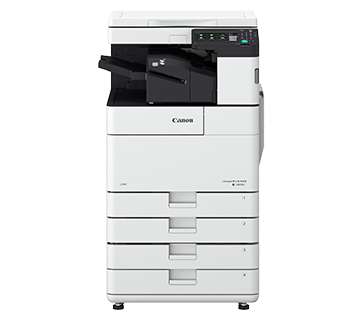 SHAH ALAM, 31 March 2020– Canon today announced six new additions to the imageRUNNER (iR) multi-function device (MFD) line-up, comprising four A3 monochrome MFDs, the iR2645i, iR2635i, iR2630i and iR2625i. Built to meet the needs of modern-day offices, the entry-level MFDs help businesses increase productivity with seamless mobile connectivity, supporting a wide range of mobile printing solutions including Canon PRINT Business, Google Cloud Print™, Apple® AirPrint™ and Mopria® Print Service.
"Managing today's offices requires accommodating a mobile workforce, embracing cloud technology, and securing valuable business data," said Masato Yoshiie, Senior Director of Business Imaging Solutions Centre at Canon Marketing Malaysia. "Our new imageRUNNER MFDs are built to meet the needs of today's offices. The MFDs are equipped with Canon's cloud-based print management technology, uniFLOW Online Express, which helps businesses analyze and monitor print, copy, scan, and fax consumption, as well as precisely distribute expenditures to departments. Strong security features, such as Verify System at Startup, Encrypted PDF, and Device Signature PDF, enable MFDs to protect the confidentiality of business data.
Engineered to Excel in Modern Office Environments
Comprising iR2645i, iR2635i, iR2630i and iR2625i, the highly efficient iR2600i series offers remarkable print speeds of up to 45 pages per minute (ppm), and various smart capabilities to improve user convenience and productivity in modern offices. Incorporating a unique Forced Hold Print function, the MFDs allow users to preview and edit print settings before finally releasing temporarily held print jobs. This helps to reduce paper wastage from accidental prints, and save users the hassle of re-submitting print jobs.
Supporting greater security, the new iR2600i series proactively deters data breaches by integrating with third party Security Information and Event Management (SIEM) system to provide insights into potential threats. Featuring a new Syslog protocol, the MFDs send device information to the SIEM system for monitoring, and upon detection of abnormal activities, the system sends real time alerts to administrators for immediate threat analysis and prevention.
Aimed at providing users with greater ease of use, the MFDs present a new user interface (UI) known as the Home Screen on a large 7-inch colour touchscreen LCD. The UI offers a new Timeline feature which displays shortcuts for past or repeated scan and copy jobs, helping users avoid the inconvenience of repetitive operations. The MFDs also provide users with the ability to customise preferences, offering personalisation of initial display screen, display language and frequently-used functions for added convenience.
Availability
The imageRUNNER 2645i, 2635i, 2630i and 2625i are now available at authorised Canon dealers. For more information about this product, kindly visit the Canon website.
About Canon Marketing (Malaysia) Sdn. Bhd.
Canon is a global leader in photographic and digital imaging solutions. Canon Marketing (Malaysia) Sdn. Bhd. was established in 1987 to deliver products and services support to Malaysian users directly and through its nationwide channel partners. The parent company Canon Inc. has a global network of more than 300 companies and employs close to 200,000 people worldwide. It is dedicated to the advancement in technology and innovation and commits more than 7% of its total revenue each year to R&D. Under the slogan "Business Can Be Simple", Canon aims to reduce complexity by simplifying workflows and empowering customers with effective and easy to use solutions. As a Fortune Global 500 company, Canon is guided by its kyosei philosophy that focuses on living and working together for the common good. For more information, visit my.canon, or follow the Official Facebook page and the Official Instagram page.