Gesture of Solidarity for Northern Flood Victims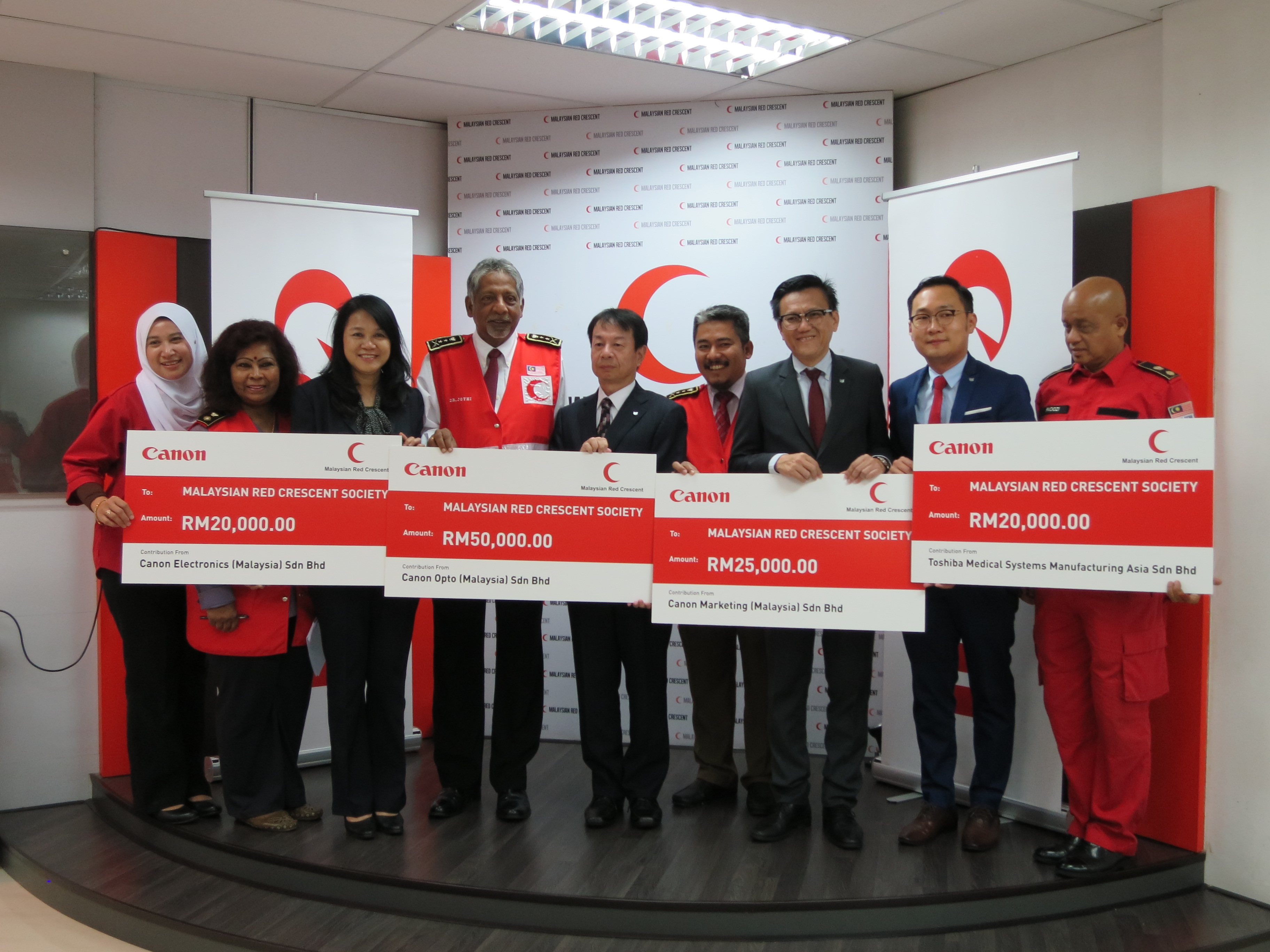 Mr Andrew Koh, President & CEO of Canon Marketing Malaysia (third from right) handing over the cheques to Malaysian Red Crescent together with representatives from Canon group of companies
The Canon companies in Malaysia came together to contribute a total of RM115,000 in aid of flood relief operations in the northern states of Malaysia by the Malaysian Red Crescent (MRC). On November 14, a cheque presentation ceremony was conducted at the Malaysian Red Crescent's national headquarters in Kuala Lumpur. The Canon companies involved consisted of Canon Opto (Malaysia) Sdn Bhd, Canon Marketing (Malaysia) Sdn Bhd, Canon Electronics (Malaysia) Sdn Bhd, and Toshiba Medical Systems Manufacturing Asia Sdn Bhd.

Canon Marketing Malaysia President & CEO, Mr Andrew Koh, mentioned that Canon is driven by its corporate philosophy of 'Kyosei', and would like to help Malaysians in flooded areas who are facing difficulties and severe damage caused by the flood.
Love our Community: Supporting Underprivileged Communities
In conjunction with Canon Marketing Malaysia's 30th Anniversary, we supported the poor, needy and underprivileged communities via the Food Aid Foundation and various homes in need of necessities.

Canon staff were invited to donate the items required by each of the communities. The collection yielded food staples such as rice, cereal, malt chocolate drink, biscuits, cooking oil and canned foods, as well as toiletries and cleaning essentials, as requested by the communities.
| | |
| --- | --- |
| 21 April | A large collection of dried foods were contributed to the Food Aid Foundation, an NGO which channels food donations to welfare homes, poor families and soup kitchens |
| 30 April | Provisions and food items were donated to Hope Place in Kuching |
| 25 June | Kota Kinabalu branch donated dry food contributions to the Holy Family Residence at Kampung Pulak, Papar |
| 15 July | Handover of essential groceries and toiletries by Canon and FOV to 72 families in the orang asli settlement at Ulu Slim, Perak |
| 21 September | Second round of contribution to Food Aid Foundation comprising donations of rice, beehoon, cooking oil, Milo, canned food, cereal 3-in-1 and sugar |
| 14 December | Final round of contribution to Food Aid Foundation to replenish the food necessities for the poor and needy |
| | |
| --- | --- |
| | |
| Handover of the dried food items to Food Aid Foundation | Food and cleaning essentials donated by Canon Marketing Malaysia Head Office staff |
| | |
| Children from Trinity Children's Home expressed their gratitude for Canon's contributions | rang asli villagers in Perak receiving the items contributed by Canon and FOV |
Contribution of Digital Cameras to Living Hope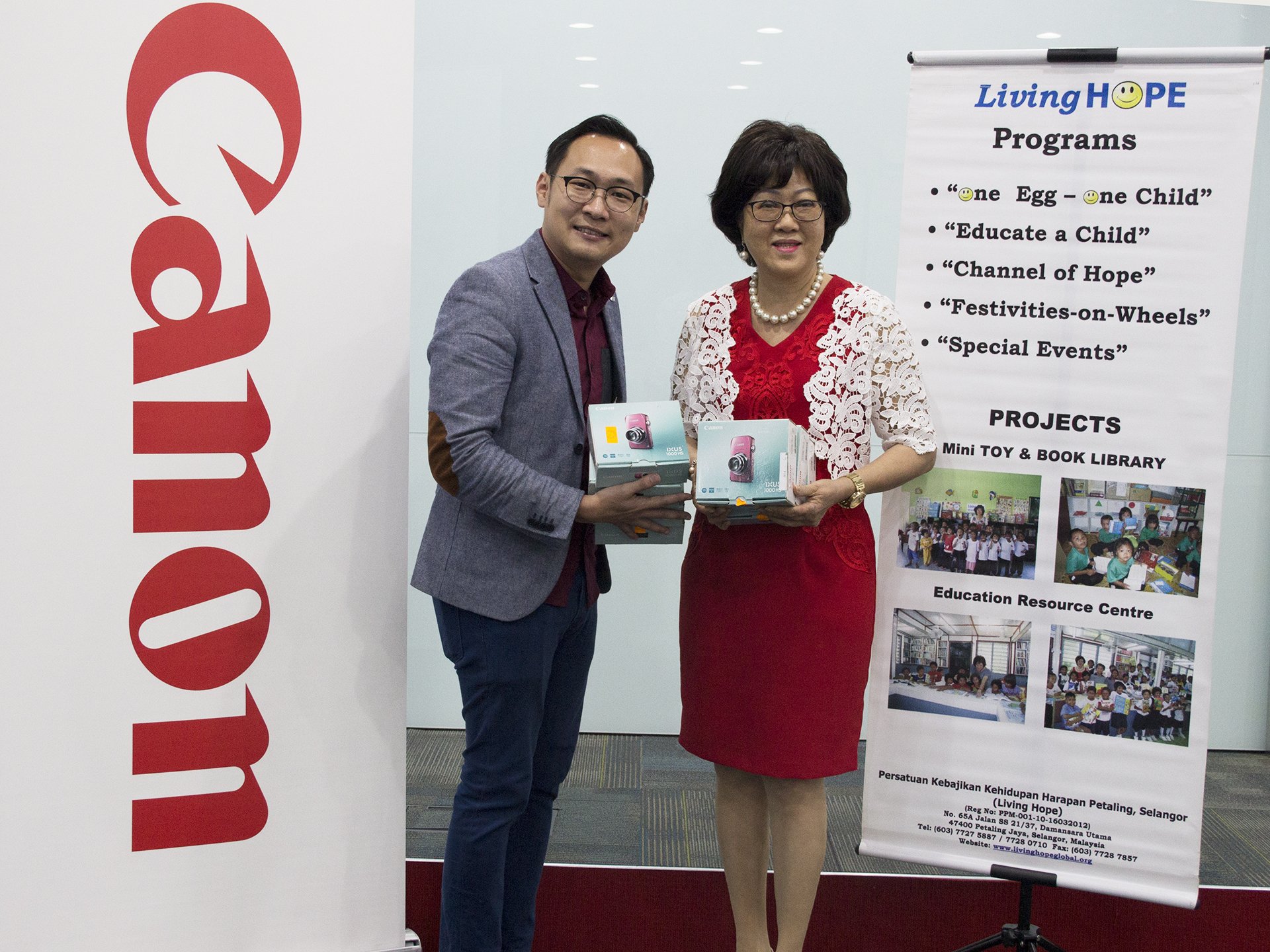 Head of Corporate Communication Department, Mr Patrick Lim, handing over the cameras to Living Hope founder, Dr. Peggy Wong
In support of Living Hope's charitable efforts, Canon Marketing Malaysia sponsored 10 units of IXUS compact cameras (demo units) to assist them in their daily activities. Living Hope provides food and basic necessities to the poor, needy and marginalized children living in Malaysia. The cameras will be utilized for the reporting of the conditions in rural areas where Living Hope volunteers are based.
Spreading Love at Rumah Seri Kenangan, Johor Bahru
| | |
| --- | --- |
| | |
| HCanon Marketing Malaysia Johor Bahru staff handing over the provisions to Rumah Seri Kenangan | Speaking to and cheering up the old folks |
On August 12, Canon's Johor Bahru branch visited Rumah Seri Kenangan, a home for the elderly, hardcore poor and handicapped, located in Johor Bahru. The visit was organized by the Staff Recreation Club to hand over dried food stuff contributed by the staff as part of the Love Community project.

About seventeen staff members took time off from their Saturday to visit the home. Besides having a tour around the premises, they also spoke to the caretaker as well as the old folks to understand their situation and needs. Cik Wan Zalina, Head of Rumah Seri Kenangan, was delighted with our presence and kindness.
KDU Students Awarded Canon Seeding Fund for 2nd Consecutive Year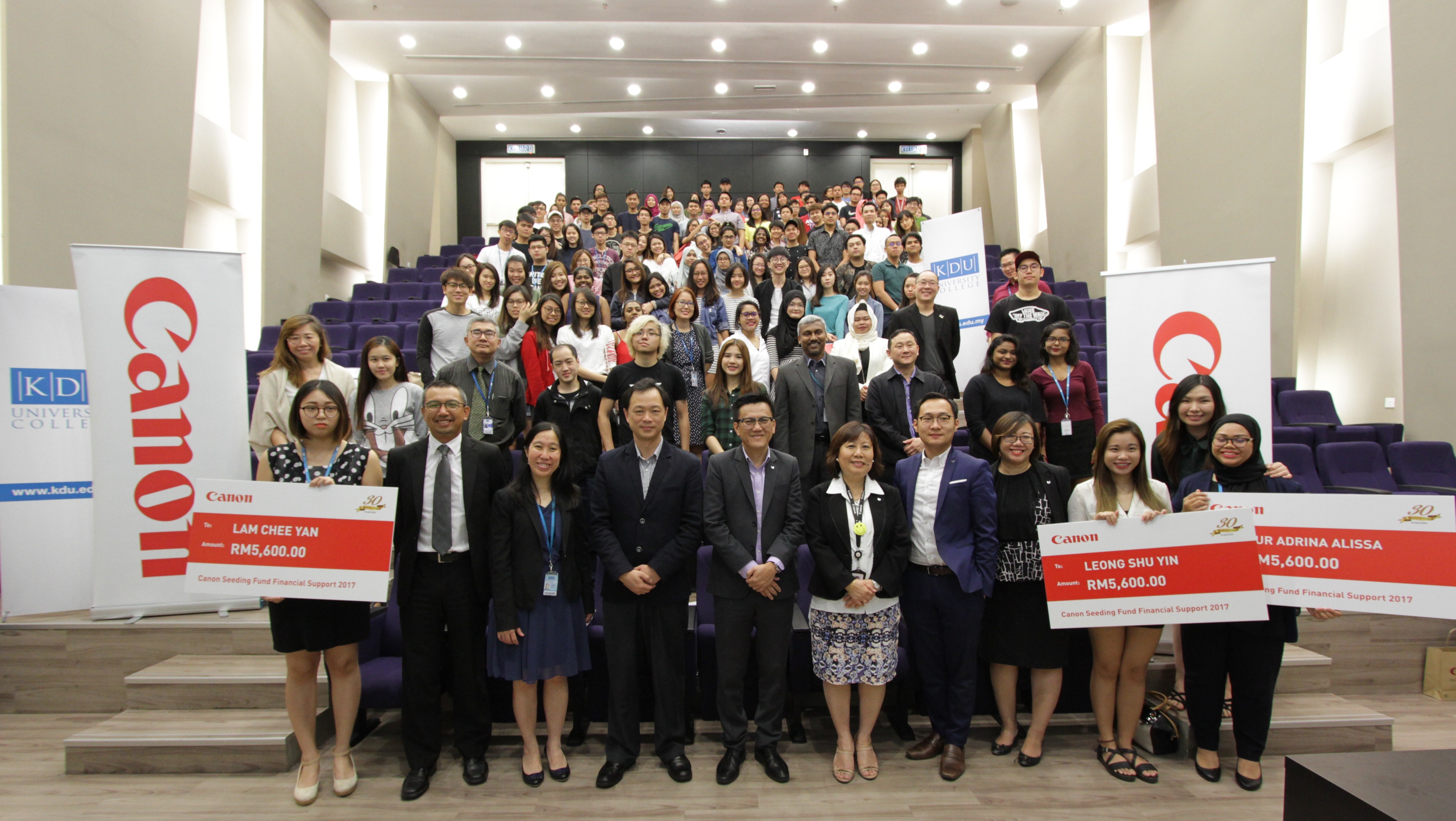 Group photo with KDU University College management, lecturers and students at the award presentation
On July 13, 2017, three fortunate and deserving KDU University College students were selected to receive the Canon Seeding Fund financial support for the second consecutive year. Each of the three students received RM5,600 with a grand total of RM16,800. The Canon Seeding Fund was created for providing students equal opportunity for education. It is a result of the Academic Initiative Partnership between Canon Marketing Malaysia and KDU, a smart collaboration for exchange and sharing of knowledge and resources.