Canon Continues Its Market Dominance in The Printing Industry
• No.1 Inkjet Printer brand for 27 consecutive years since 1996
• No.1 Laser Printer brand for 8 consecutive years since 2015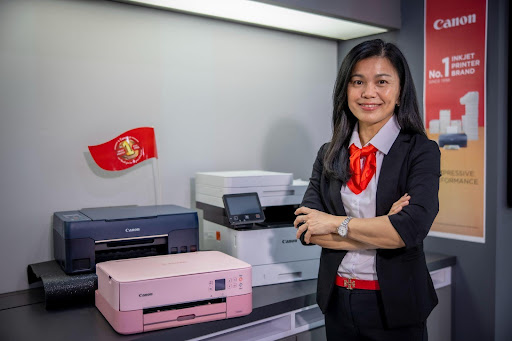 SHAH ALAM, 22 March 2023 - As the country emerges from the global economic challenges of the past year, Canon Marketing Malaysia ("Canon") has continued to remain the nation's market leader in the printer industry.
This comes as Canon was again identified by market research firm IDC in its Worldwide Quarterly Hardcopy Peripherals Tracker, 2022Q4, as being the industry leader in the highly competitive printer market.
According to IDC, Canon remains the No. 1 market share in the Inkjet Printer segment for a record 27th consecutive year since 1996. In addition, Canon also topped the Laser Printer segment as the top brand for the 8th consecutive year since 2015.
These remarkable achievements come at a time when global economic uncertainties have impacted various business sectors just as the nation's economy was rejuvenating from the effects of the pandemic.
Sandy Lee, Head of Consumer System Products Division at Canon Marketing Malaysia said the recognition solidifies the company's leading position in the nation's printer market despite the economic headwinds.
"It's an immense honour to have blazed the path of success as the No. 1 printer brand in Malaysia since 2007 and remain as the customers' top choice and the market leader in the printing industry."
Lee said that the accolades also showed Canon users have continued confidence in the company's products as they seek reputable brands and reliable products. "Having continued customer confidence in our products also means that we expect higher growth in the expanding Malaysian market," Lee added.
She said the strong support and trust from Canon's valued customers contributed to this success. Additionally, Lee also expressed recognition for the commitment displayed by the brand's business partners and team as the driving factor towards excellence for the company.
She said Canon was honoured and proud to remain the number one choice for inkjet and laser printers in the country and this was a testament to its quality in products and extensive after-sales service support.
"Our remarkable achievements are mainly due to strong support from all consumers and business partners. At the same time, we are glad that Canon's innovations, solutions and services have met the needs of users, both consumer and commercial."
Despite being the frontrunner in the printer market, Canon will continue to transform itself and adapt to the changing market demands. To maintain its market leader position, Lee said Canon will continue working closely with its business partners to understand their needs and meet market demands. "This will include expanding its marketing channels and strengthening its use of e-commerce platforms for better consumer convenience," said Lee.
Apart from these, she said Canon will also focus on growing its B2B and B2G relationships by offering an extensive and reliable range of printers.
Lee also pointed out that Canon will constantly add value to its products so as to meet new consumer demands and hoped that this will further cement the company's market leader position.
"Canon hopes to maintain its leading position for more years to come. To do so, we will be incorporating the newest and latest features, and technology that will ultimately be more convenient, hassle-free, cost-effective and reliable for end-users."
Canon has also been carrying out continuous R&D on printing technology and has been proactively understanding consumer needs and meeting market demands.
The company has been a total business solutions provider with its wide range of products for both the business-to-business (B2B) and business-to-consumer (B2C) market segments. Canon offers high-performing inkjet and laser printers for the B2B market, supporting businesses like small and home offices, small-medium enterprises and corporations to deliver excellent printing performance. For the consumer market, Canon has an extensive range of home printers and professional photo printers. These printers are popular among students, young executives, home users and photographers.
- END -
About Canon Marketing (Malaysia) Sdn. Bhd.
Canon is a global leader in photographic and digital imaging solutions. Canon Marketing (Malaysia) Sdn. Bhd. was established in 1987 to deliver products and services support to Malaysian users directly and through its nationwide channel partners. The parent company Canon Inc. has a global network of more than 300 companies and employs about 180,000 people worldwide. It is dedicated to the advancement in technology and innovation and committed more than 8% of net sales to R&D expenses in 2021. Under the slogan "Business Can Be Simple", Canon aims to reduce complexity by simplifying workflows and empowering customers with effective and easy-to-use solutions. As a Fortune Global 500 company, Canon is guided by its Kyosei philosophy which focuses on living and working together for the common good. For more information, visit my.canon, or follow the official Facebook and Instagram pages