PowerShot V10: Your Pocketable Content Creation Kit
The PowerShot V10 - your new creative friend with a retractable stand and microphone that is pocket-sized, and feature-packed. Perfect for creating high-quality short-form content
SHAH ALAM, 11 May 2023 - Canon Marketing Malaysia ("Canon") today announced the PowerShot V10, a new video-centric concept camera designed for smartphone natives. With its slim, ergonomic form factor and seamless, high-quality footage, the PowerShot V10 marries Canon's imaging technologies with pocketable design.
"As the demand for short-form content continues to rise, Canon is dedicated to equipping creators with the tools they need to elevate their content quality," said Hunter Zhang, Director of Image Communication Business Division at Canon Marketing Malaysia. "The PowerShot V10 represents a leap forward in our commitment to empower creators. Its intuitive design allows users to seamlessly focus on creating exceptional short-form content with ease, setting new standards of excellence in the industry".
Small in Package, Big on Content
Beneath its petite 9cm-long body, the PowerShot V10 is a video content creation powerhouse. An integrated retractable, tiltable stand unfolds to provide tripod-like support whenever and wherever you need it: no more scrambling for random supportive objects that leave you with little control over your angles! There is also a built-in large-diameter three-element microphone that cancels noise and produces clear, high-quality audio, perfect for creating videos with that ASMR (Autonomous sensory meridian response) effect.
It';s your new 3-in-1 content creation kit essential for anything from travel vlogging,breakdancing demos, cinematography experiments, to on-location livestreams. It fitsin a small bag with room to spare, along with your smartphone, earbuds, andpowerbank.
Superior Image Quality
Canon's EOS imaging technology allows the PowerShot V10 to produce stunning, low-noise footage with vivid colours, even in low-light venues with "romantic" mood lighting. Get ready to impress your audience with clear and beautiful footage from the PowerShot V10.
Easy Creation Regardless of Skill Level
With various shooting modes that include auto and manual exposure, and as many as 14 colour filters, the PowerShot V10 is equipped to help you achieve your ideal results regardless of your skill level or the extent you intend to edit your footage. You can experiment with different camera angles using the tilt-type monitor, which lets you see and adjust high- and low-angle shots comfortably.
Autofocus will prove to be a breeze even for beginners: While Face Tracking AF automatically detects and keeps your face in frame, you can also switch to Specified Frame AF to focus on wherever you tap.
The new Movie Auto ND filter automatically turns the built-in 3-stop ND filter on or off according to ambient brightness. Now you can record perfectly exposed transitions from the dim indoors to the sunny outdoors in one smooth take!
The ergonomic vertical grip provides both right- and left-handers with a comfortable, stable hold, perfect for trying out new transitions or taking long handheld videos such as virtual tours of your travel accommodation.
Designed for ease of shooting, the lens' wide angle-of-view lets you record yourself with your friends and the background behind you, all from a natural, non-outstretched arm position.
With 14 kinds of aspect ratio markers, you can be ensured that important elements are always perfectly framed even when your video are to be edited for different sharing platforms.
Easy Livestreaming
The PowerShot V10 supports real-time delivery methods such as livestreaming, which can be done directly to Facebook or YouTube via the Camera Connect app without the hassle of complicated settings. This can be achieved even when you are out and about: simply tap on your smartphone's mobile network directly.
Alternatively, you can also use the PowerShot V10 as a webcam via the plug-and-play USB-C connection.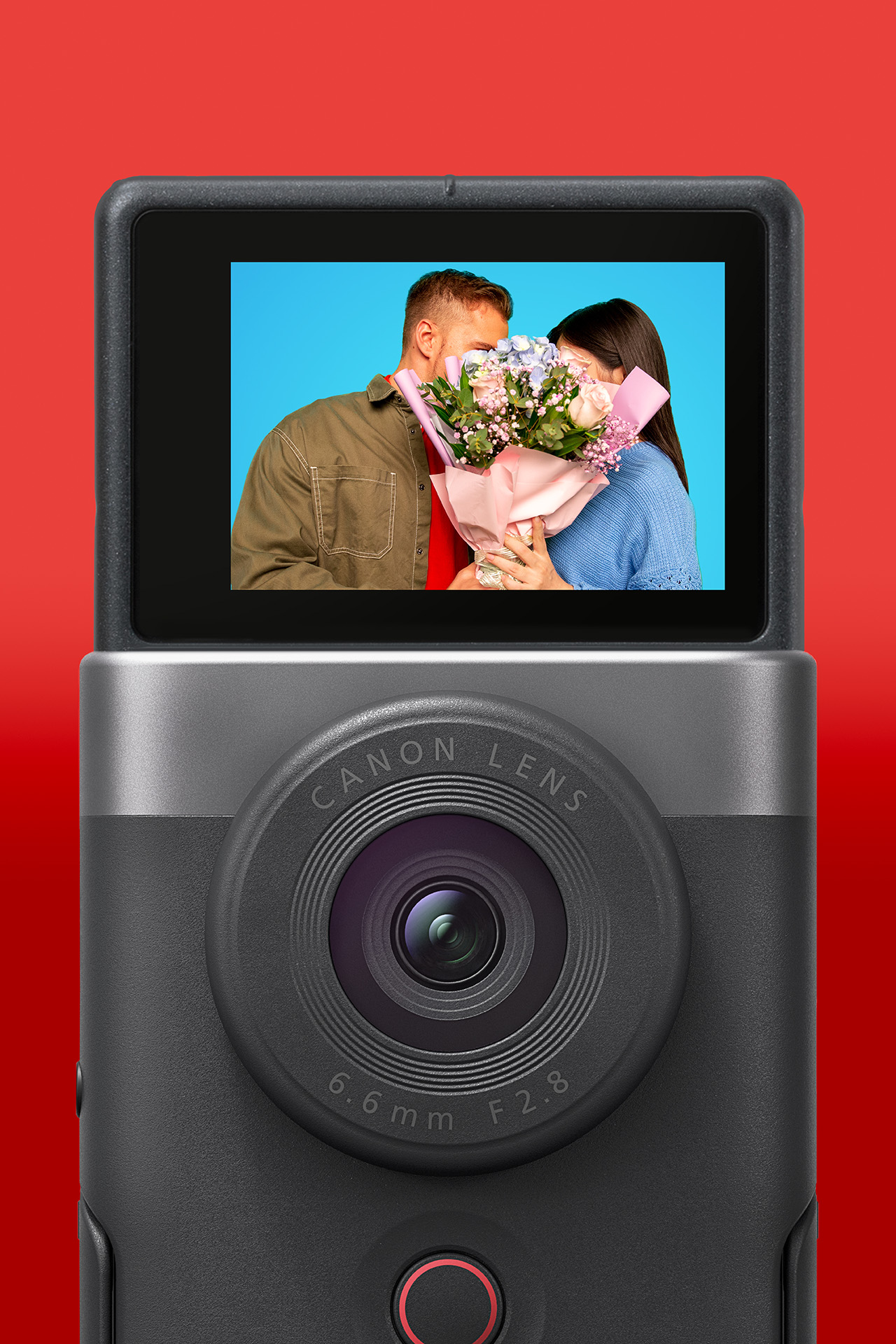 -END-
About Canon Marketing (Malaysia) Sdn. Bhd.
Canon is a global leader in photographic and digital imaging solutions. Canon Marketing (Malaysia) Sdn. Bhd. was established in 1987 to deliver products and services support to Malaysian users directly and through its nationwide channel partners. The parent company Canon Inc. has a global network of more than 300 companies and employs about 180,000 people worldwide. It is dedicated to the advancement in technology and innovation and committed more than 8% of net sales to R&D expenses in 2021. Under the slogan "Business Can Be Simple", Canon aims to reduce complexity by simplifying workflows and empowering customers with effective and easy-to-use solutions. As a Fortune Global 500 company, Canon is guided by its Kyosei philosophy that focuses on living and working together for the common good. For more information, visit my.canon, or follow the Official Facebook and the Instagram pages.
Appendix
Camera Model
PowerShot V10
Image Processor
DIGIC X
Image Sensor Camera Effective Pixels
Effective sensor size: 1.0-inch CMOSCamera effective pixels: Max approx. 13.1 megapixels
Autofocus Method
Face tracking AF / Specified frame AF
Focal Length (35mm Equivalent)
19mm
Image Stabilizer (IS) System
Movie: Movie Digital IS
Effective ISO

Stills: 125 - 12800

Movie: 125 - 6400*

*Max ISO 3200 for 4k movie

Max Shutter Speed

Stills: 1/2000 - 1.0 set automatically

Movie: 1/4000 - 1/25 set automatically (1/4000 - 1/8Manual exposure movie mode)

Movie recording size

4K UHD (30/25/24 fps) (3840x2160)

Full HD (60/50/30/25/24 fps) (1920x1080)

Maximum movierecording time
Up to approx. 1hr.
Recording Media
Single Card Slot (microSD/microSDHC*/microSDXC*)*UHS-I cards supported
Network
Wi-Fi(IEEE802.11b/g/n)/ Bluetooth Low EnergyTechnology(Ver 4.2)
UAC/UVC
Full HD 30p
Live Video Streaming
YouTube, Facebook
HDMI output
HDMI micro (Type D)
External microphoneinput
3.5mm stereo mini jack
Power Supply
Built-in rechargeable lithium-ion battery
USB charging /Optional Power
USB Power Adapter PD-E1 or adapter with outputcapacity of 5 V/1.5 A or more.
Size
Approx. 63.4mm x 90.0mm x 34.3mm
Weight
Approx. 211g (incl. battery and card)