Reach Greater Heights of Business Excellence with Canon's New Laser Printer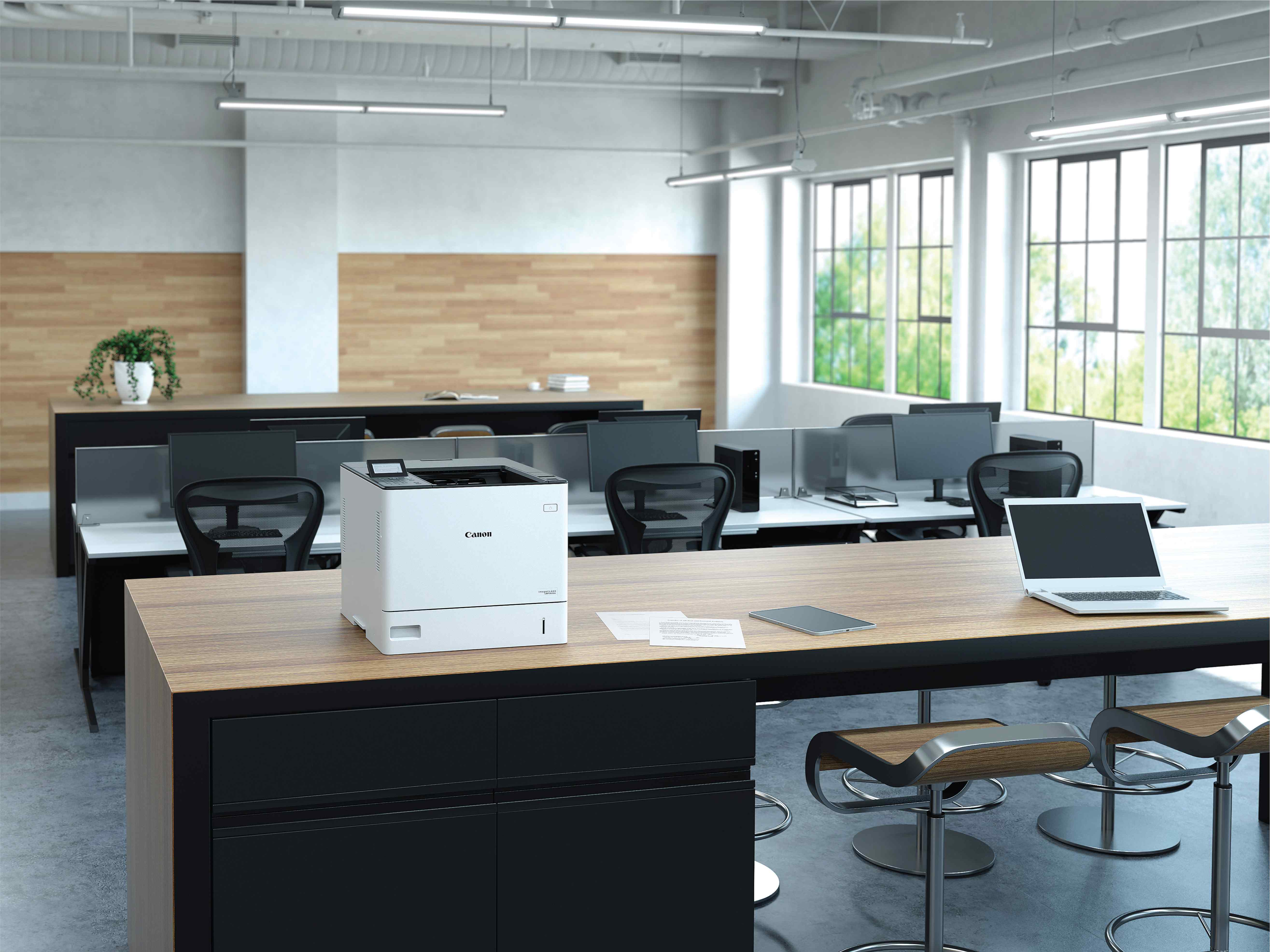 SHAH ALAM, 31 March 2023 - Canon Marketing Malaysia's ("Canon") has unveiled its latest A4 monochrome laser printer, the imageCLASS LBP361dw, which is designed for various businesses ranging from small offices to larger enterprises. The all-new imageCLASS LBP361dw boasts the ability to accommodate multiple paper cassettes and a paper input of up to 4,300 sheets. This flexibility is complemented by the comprehensive range of network capabilities and security functions, making it a valuable asset in competitively-driven business environments.
High Speed, High Volume, Maximum Efficiency
The new imageCLASS LBP361dw is highly efficient, with a rapid first print out time of just 4.9 seconds from standby mode. In comparison to its predecessor, the imageCLASS LBP350 series, it is also 23% more compact in size. With a speedy print speed of 61 pages per minute (PPm) for A4 printing and a 100PPm rate for A5 printing, it is an exemplary productivity tool for industries that have a need for prints in smaller sizes, such as healthcare, logistics and retail.
By default, this printer has a 550-sheet paper cassette and a 100-sheet multipurpose tray which can be extended to accommodate higher usage frequencies. As printing demands increase, this printer can scale to business needs and can be configured with various cassette options to a paper capacity of up to 4,300 sheets. This leverages time efficiency as it allows users to have a higher print volume with a lower paper replacement frequency.
Amplified Security and Seamless Wireless Connectivity
By combining gigabit Ethernet connectivity, the new Dual Network Support feature, and support for TLS 1.3 and IEEE 802.1x, the imageCLASS LBP361dw is capable of operating seamlessly across two networks. The printer also provides strong security and prevents the risk of network eavesdropping, which is especially paramount for businesses that deal with highly sensitive information such as government bodies, auditing companies, and law firms.
Additionally, the wireless connectivity of the printer enables a harmonious printing ecosystem for modern workspaces, giving users the option to utilise print solutions such as the Canon PRINT Business for iOS and Android, Canon Print Service, Apple® AirPrint™, and Mopria® Print Service.
Easy Supply Management with All-in-One Toner Cartridge System
The benefits of the printer's all-in-one cartridge system are twofold as it streamlines the toner replacement and maintenance process while yielding up to an abundant 27,000 pages[1] from just a standard cartridge. To accommodate businesses with lower print volumes, a lower yield 11,500-page[2] option provides versatility and a lower-cost alternative for its consumable parts. The imageCLASS LBP361dw's impressive features packed in a smaller footprint, with enhanced security and extensive scalable options distinguish it from its competition in the business-oriented market.
The latest imageCLASS LBP361dw printer brings "A Class of Excellence" to any business space and is now available at all authorised Canon distributors and dealers starting 3rd of April 2023, priced at RM8,390. Experience the dynamic laser printer now or head to my.canon for more information.
[1] Toner cartridge yield is in accordance with ISO/IEC 19752
[2] Toner cartridge yield is in accordance with ISO/IEC 19752
-END-
About Canon Marketing (Malaysia) Sdn. Bhd.
Canon is a global leader in photographic and digital imaging solutions. Canon Marketing (Malaysia) Sdn. Bhd. was established in 1987 to deliver products and services support to Malaysian users directly and through its nationwide channel partners. The parent company Canon Inc. has a global network of more than 300 companies and employs about 180,000 people worldwide. It is dedicated to the advancement in technology and innovation and committed more than 8% of net sales to R&D expenses in 2021. Under the slogan "Business Can Be Simple", Canon aims to reduce complexity by simplifying workflows and empowering customers with effective and easy-to-use solutions. As a Fortune Global 500 company, Canon is guided by its Kyosei philosophy that focuses on living and working together for the common good. For more information, visit my.canon, or follow the Official Facebook and the Instagram pages.