Canon Launches E-Store to Enhance Customer Experience & Product Accessibility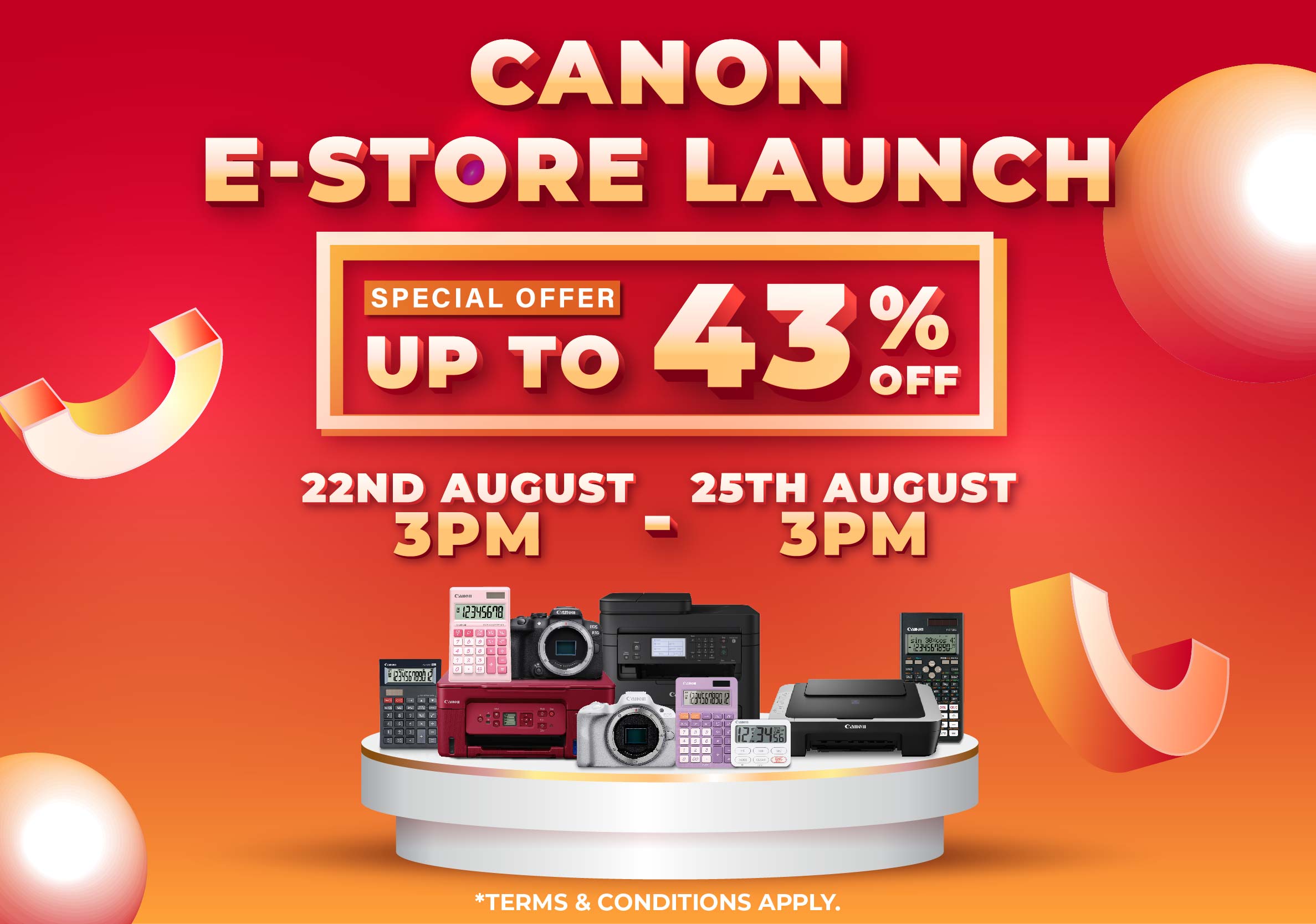 SHAH ALAM, 21 August 2023 - Canon Marketing Malaysia ("Canon") has launched the E-Store, its integrated online shopping platform that offers convenience and round-the-clock availability, bringing Canon's range of products closer to its customers.

The new E-Store promises to transform the way consumers access Canon products as online shoppers can now purchase the full range of the company's latest cameras, lenses, printers, and other consumables, all from one place. Online shoppers can purchase genuine Canon products at ease with the store's 24/7 availability and doorstep delivery, along with after-sales warranties and uncompromised quality assurance. All major payment methods including credit cards, online banking, and Touch 'N Go are accepted to make the experience easier.

"We are excited to take this bold step into the digital realm to better reach our customers and to empower them to acquire Canon's cutting-edge products from the comfort of their homes. Our commitment to our customers as embodied in our corporate slogan, 'Delighting You Always,' is reflected in our latest virtual storefront which serves as a means to provide convenience and quality service to ensure customer satisfaction among our loyal community of Canon users," stated Shunji Yoshikai, President and CEO of Canon Marketing Malaysia.

The E-Store features the full range of Canon products from inkjet and laser printers tailored for home offices and small to medium-sized enterprises; to professional-grade cameras catering to enthusiasts and professionals.

Exclusive discounts of up to 43% on some of Canon's latest printers and cameras will be offered on the E-store for a limited time only. With the purchase of selected camera and printer models, online shoppers will receive Canon merchandise such as sunshades, notebooks, and EOS R caps, perfect for showcasing their passion for the brand. The campaign runs from 3 pm on 22 August 2023, ending at 3 pm on 25 August 2023.

For more information about Canon's E-Store launch and its innovative offerings, please visit https://store.my.canon or follow us on Facebook and Instagram.

About Canon Marketing (Malaysia) Sdn. Bhd.

Canon is a global leader in photographic and digital imaging solutions. Canon Marketing (Malaysia) Sdn. Bhd. was established in 1987 to deliver products and services support to Malaysian users directly and through its nationwide channel partners. The parent company Canon Inc. has a global network of more than 300 companies and employs about 180,000 people worldwide. It is dedicated to the advancement in technology and innovation and committed more than 8% of net sales to R&D expenses in 2021. Under the slogan "Business Can Be Simple", Canon aims to reduce complexity by simplifying workflows and empowering customers with effective and easy-to-use solutions. As a Fortune Global 500 company, Canon is guided by its Kyosei philosophy that focuses on living and working together for the common good. For more information, visit my.canon, or follow the Official Facebook and Instagram pages.