Unleashing CR8-tivity: Canon's Experiential Nationwide Roadshow 2023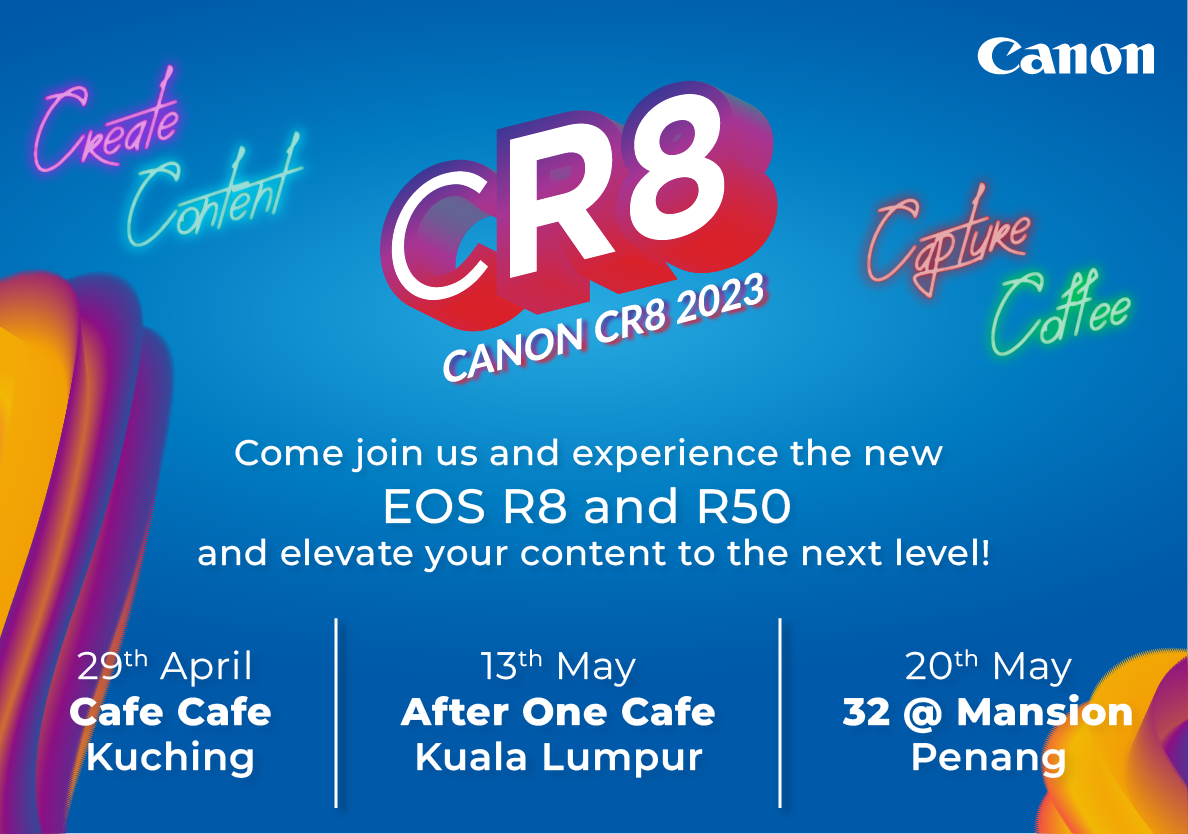 SHAH ALAM, April 26 2023 – Canon Marketing Malaysia ("Canon"), a global leader in photography and digital imaging solutions, is excited to announce the launch of its highly-anticipated nationwide camera roadshow entitled "Canon CR8 2023". The event will kickstart from late April to early June, covering 11 different cities and will feature a range of Canon's latest cutting-edge technology, including the highly sought-after EOS R8 and EOS R50 cameras, as well as a range of its latest R-series cameras and RF lenses.
The Canon CR8 2023 is an experiential roadshow that offers a unique opportunity for camera enthusiasts to experience Canon's latest technology first-hand. Attendees will have the chance to try out the newest R-series line-up in a variety of fun and insightful ways and explore the full range of features and capabilities that make these cameras the perfect choice for any shutterbug. This includes Canon's range of input to output products including cameras and printers which are engineered to work seamlessly together.
Experiential areas provide participants with an opportunity to test out the brand-new features and capture stunning images and videos of different subjects with the EOS R8 & EOS R50 cameras. The booths will showcase a range of qualities, which includes Full HD Slow Motion, Subject Detection Auto Focus, image stabilisation technology, live streaming, and vlogging capabilities.
The EOS R8 is curated for content creators looking to take their productions up a notch and integrates seamlessly into advanced workflows, while the EOS R50 is an accessible offering for first-time camera users who want to tap into their creativity and bring their vlogging vision to life. The Canon CR8 2023 roadshow promises to be an exciting and informative event that will inspire photographers and videographers of all levels to elevate their craft.
Hunter Zhang, Director of Image Communications Business Division, Canon Marketing Malaysia said, "Canon CR8 2023 aims to redefine content creation and photography for our end-users. With the introduction of the Canon EOS R8 and EOS R50 this year, camera enthusiasts from all walks of life are equipped with features that amplify their photographic and videographic talents. This gives photographers and videographers more tools to unleash their creativity."
"Canon's 'Kyosei' philosophy aligns with our product development approach, which centres and caters to the passion of our camera users in mind. Canon's tagline of 'Delighting You Always' is a testament to our dedication to developing products that engage and inspire our customers," added Hunter Zhang.
Also part of the roadshow is a series of insightful sharing sessions with talks given by EOS Masters and Canon's product specialists. Participants who attend the nationwide tour events can enjoy complimentary camera and lens cleaning handled specifically by the in-house camera service team.
The Canon CR8 2023's first roadshow will be held at Cafe Cafe in Kuching on April 29 2023. Following that, the roadshow will be in Kuala Lumpur at the After One Cafe on 13 May 2023, and in Penang at 32 @ Mansion on 20 May 2023.
Shutterbugs can register for the event via Canon's corporate website and find out more about the locations of the upcoming roadshows at: https://my.canon/en/consumer/event/r8-r50-nationwidetour/detail.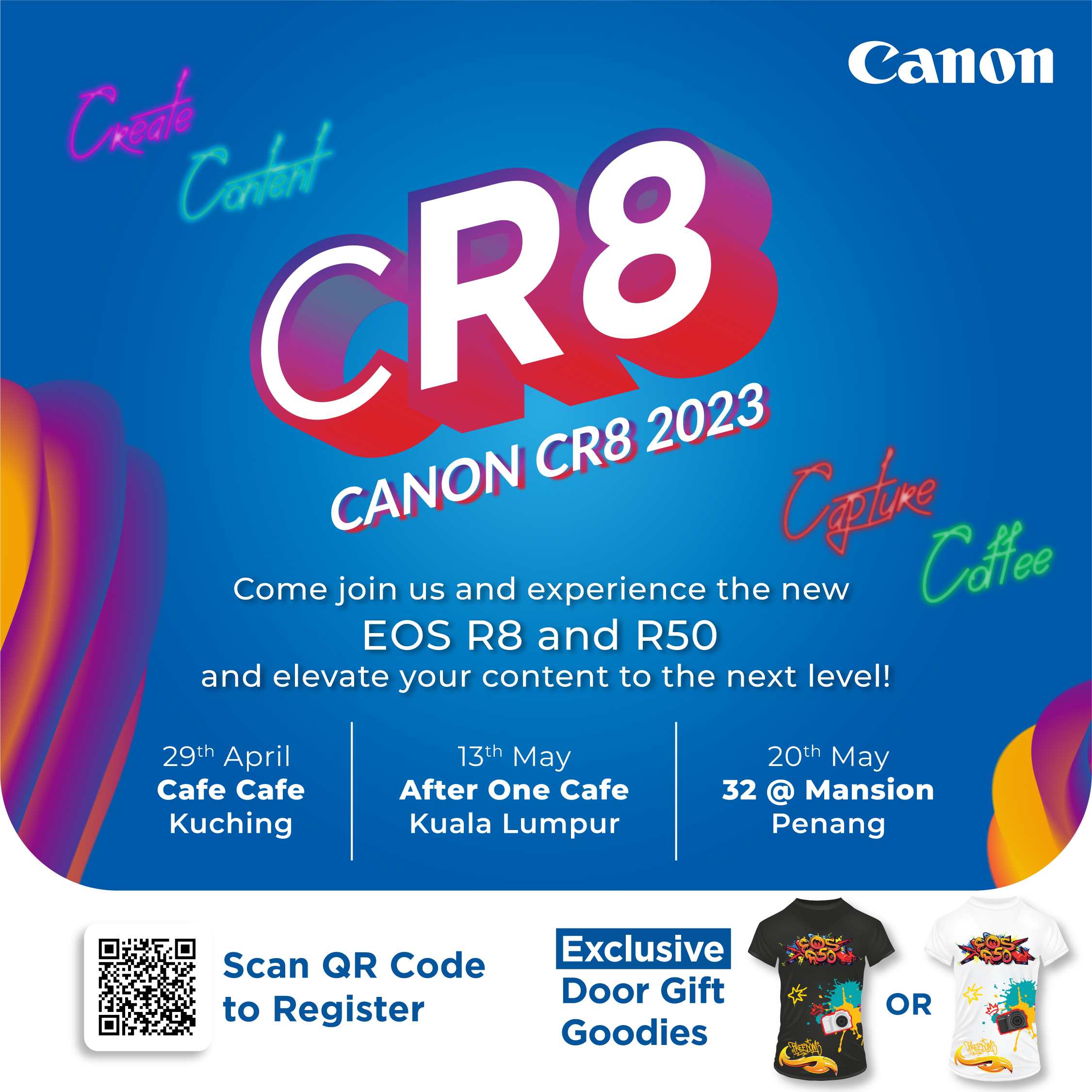 -END-
About Canon Marketing (Malaysia) Sdn. Bhd.
Canon is a global leader in photographic and digital imaging solutions. Canon Marketing (Malaysia) Sdn. Bhd. was established in 1987 to deliver products and services support to Malaysian users directly and through its nationwide channel partners. The parent company Canon Inc. has a global network of more than 300 companies and employs about 180,000 people worldwide. It is dedicated to the advancement in technology and innovation and committed more than 8% of net sales to R&D expenses in 2021. Under the slogan "Business Can Be Simple", Canon aims to reduce complexity by simplifying workflows and empowering customers with effective and easy-to-use solutions. As a Fortune Global 500 company, Canon is guided by its Kyosei philosophy that focuses on living and working together for the common good. For more information, visit my.canon, or follow the Official Facebook and the Instagram pages.