Canon Launches Children's Environmental Book for Earth Day 2023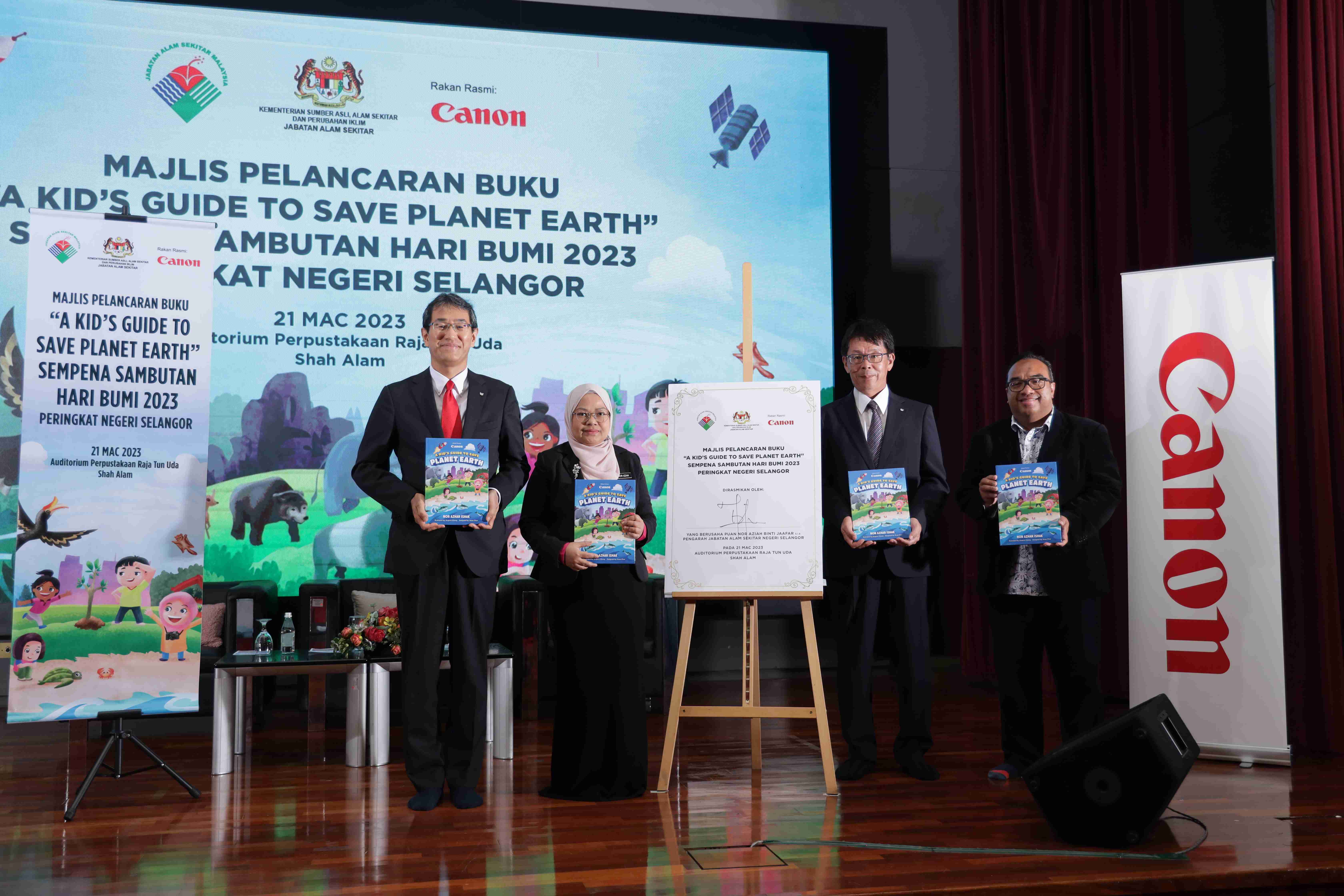 SHAH ALAM, 24 March 2023 - ​​Canon Marketing Malaysia's ("Canon") unwavering commitment to environmental conservation is front and centre in the launch of their latest campaign with a book, "A Kid's Guide to Save Planet Earth", in conjunction with the upcoming Earth Day. Canon showcases its collaborative spirit by joining hands with the Department of Environment ("DOE"), Selangor, and Canon Opto Malaysia to maximise their advocacy for environmental awareness among the younger generation and inspire eco-consciousness.
The event, which was held at the Raja Tun Uda Library, Shah Alam, was also attended by representatives from the Selangor Education Department, Selangor District Education Office, Selangor Public Library Corporation and schools around Selangor.
Canon's collaboration with Malaysian author and illustrator, Nor Azhar Ishak, on the book, "A Kid's Guide to Save Planet Earth", is a show of the company's enthusiastic support for the local creative community on top of its commitment to environmentalism.
Five hundred copies of the newly launched book will be distributed to selected schools within the state of Selangor which puts homegrown creative talents such as Nor Azhar at the forefront while cultivating sustainable lifestyles and inspiring the next generation to actively participate in the conservation of the planet.
This book is aimed at empowering children to understand the impact of human actions on the environment and highlights actionable yet poignant steps towards a more sustainable lifestyle through vivid illustrations and whimsical storytelling.
"A Kid's Guide to Save Planet Earth" is just one example of Canon's long track record in the advocacy of environmental awareness among its other green initiatives, as led by the company's 'Kyosei' philosophy. Canon Opto Malaysia, a company of Canon's, has been recognised as the DOE's Strategic Environmental Partner (Rakan Strategik Alam Sekitar), being one of its long-time collaborators. They have worked hand-in-hand on many environmental awareness-focused programmes in secondary schools and universities such as mini carnivals, tree planting, and e-waste recycling programmes.
"We are grateful for this collaboration with the Department of Environment, Selangor and Nor Azhar as it personifies Canon's 'Kyosei' philosophy of the importance of living and working together for the common good while contributing to the United Nations' Sustainable Development Goals of carbon neutrality. This project, which is part of our Canon Young Readers Programme, is aimed at promoting low carbon footprint lifestyles in line with the government's goal to achieve carbon neutrality by 2050," commented Shunji Yoshikai, the President and CEO of Canon Marketing Malaysia.
There to officiate the event was Nor Aziah Jaafar, Director of the Department of Environment, Selangor. As a prominent figure in environmental advocacy, Nor Aziah's presence is a testament to the significance of the monumental event and emphasises Selangor's commitment to promoting the sustainable practices of Canon while highlighting the role of every individual in conserving the environment. Nor Aziah has also officiated the 2023 Earth Day celebrations at the Selangor state level, which is celebrated on April 22 every year by people around the world.
Yang Berhormat Hee Loy Sian, Chairman of the Selangor tourism, environment, green technology and Orang Asli affairs committee, said of Canon's book launch, "As we celebrate Earth Day, it is heartening to see Canon's commitment to environmental conservation through its latest book campaign which is a significant effort to inspire eco-consciousness and cultivate sustainable lifestyles among the younger generation. The union of education for the next generation, along with support for local creative talents and the promotion of environmentalism is a commendable effort by Canon."
"Canon is thrilled to launch this campaign as we take sustainability and the education of it very seriously. Last year, we adopted 35 trees at Taman Tugu as part of our 35th anniversary. For this campaign, we explored a more creative way to embody our ongoing commitment to the 'Kyosei' philosophy. We are also honoured to have the Department of Environment, Selangor as a collaborative partner of this book launch to help enlighten the younger generation about eco-consciousness," added Shunji.
Through this collaborative effort, the book offers valuable insights for the younger generation to reflect on our collective responsibility to safeguard Mother Nature. This launch and distribution is part of Canon's many sustainability efforts towards a greener future.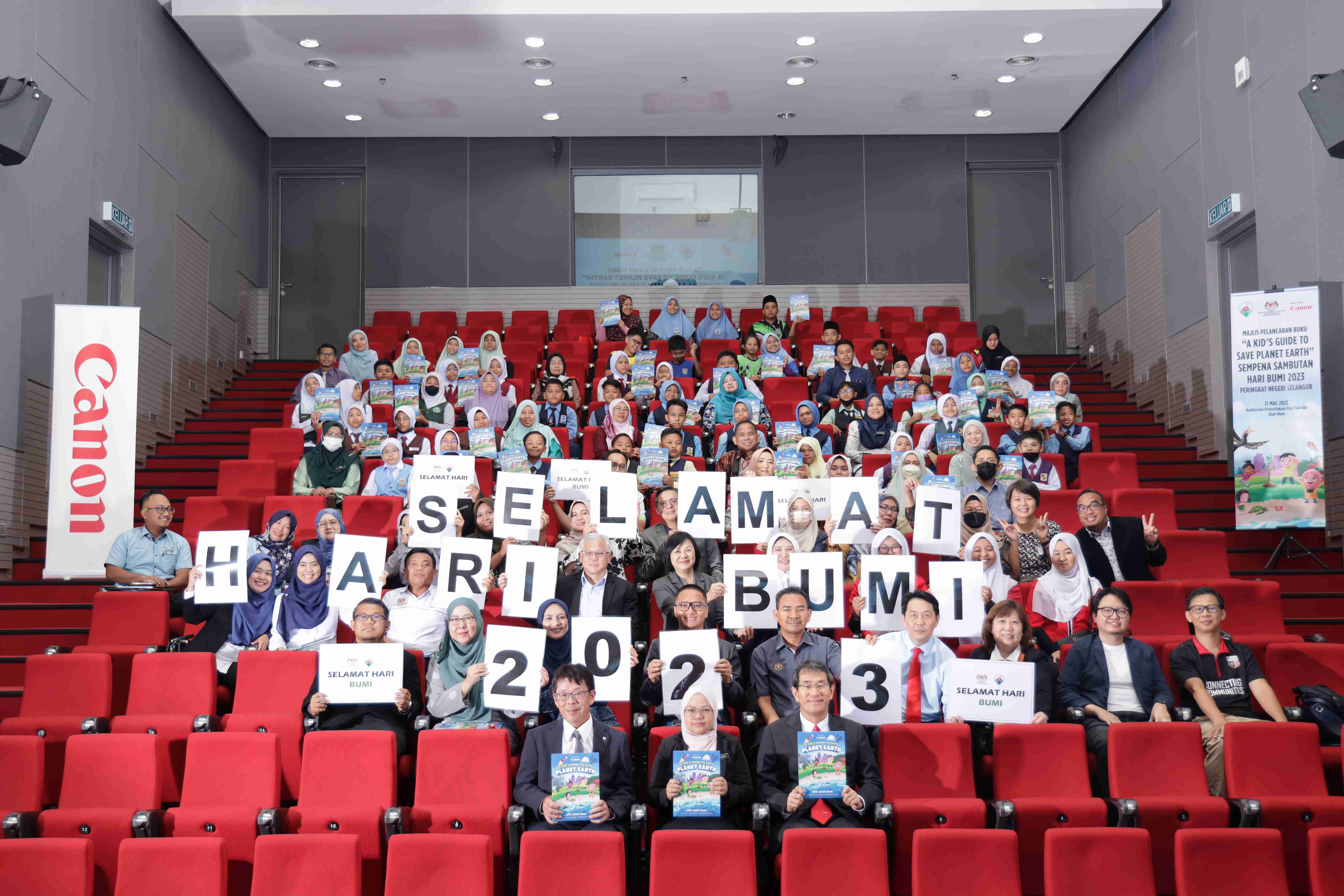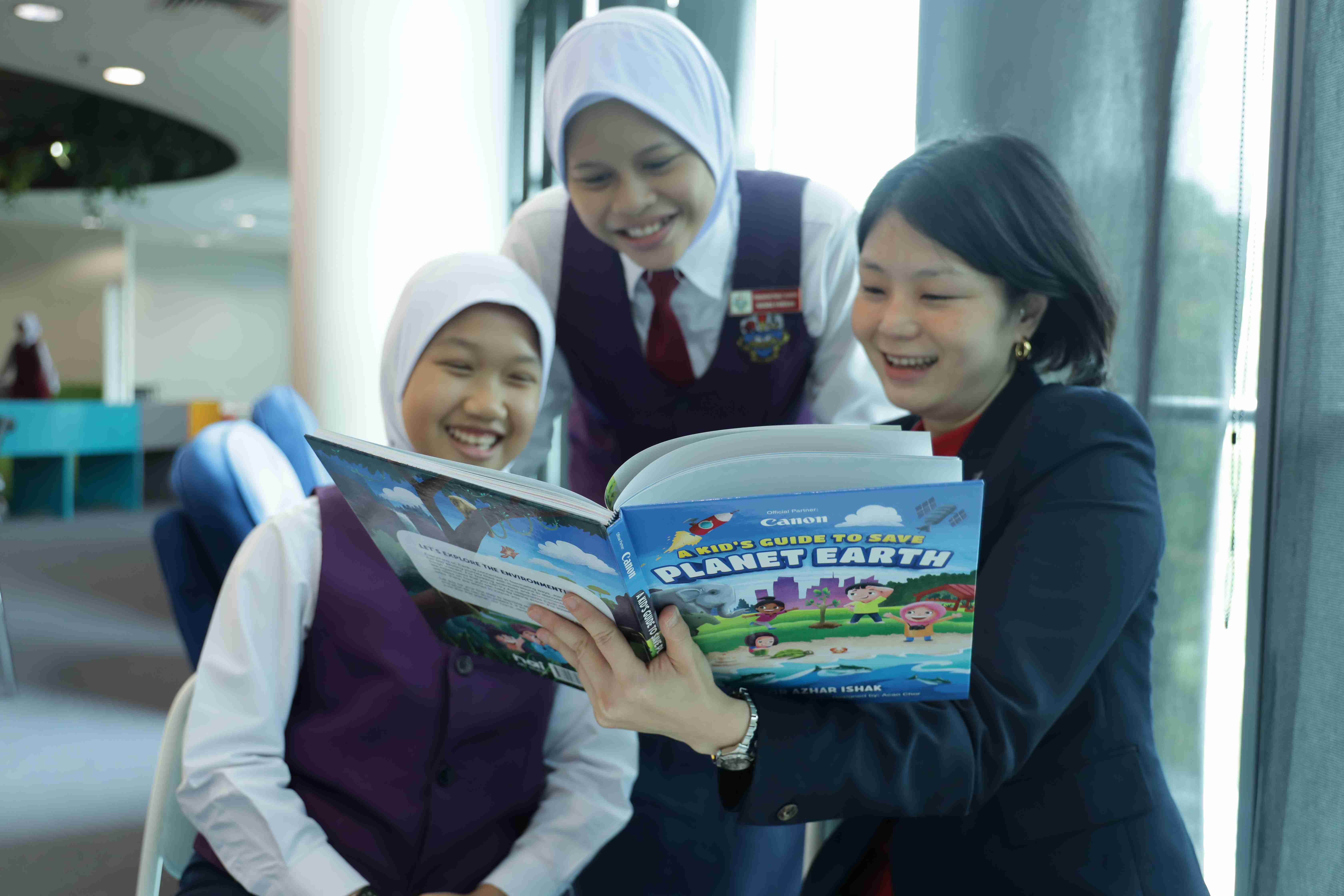 - END -
About Canon Marketing (Malaysia) Sdn. Bhd.
Canon is a global leader in photographic and digital imaging solutions. Canon Marketing (Malaysia) Sdn. Bhd. was established in 1987 to deliver products and services support to Malaysian users directly and through its nationwide channel partners. The parent company Canon Inc. has a global network of more than 300 companies and employs about 180,000 people worldwide. It is dedicated to the advancement in technology and innovation and committed more than 8% of net sales to R&D expenses in 2021. Under the slogan "Business Can Be Simple", Canon aims to reduce complexity by simplifying workflows and empowering customers with effective and easy-to-use solutions. As a Fortune Global 500 company, Canon is guided by its Kyosei philosophy that focuses on living and working together for the common good. For more information, visit my.canon, or follow the Official Facebook and the Instagram pages.